Jermaine Paul of Team Blake won TV singing contest 'The Voice' on Tuesday night, taking home a recording contract with Universal Republic Records, a $100,000 cash prize, and a shot at his dream of singing stardom.
Paul collapsed into a hug from his coach Blake Shelton and wiped away tears as he thanked his wife, children, and all of the people who voted for him, ending his speech by exclaiming 'nobody but Jesus!' The former backup singer for Alicia Keys took center stage as he sang R. Kellys 'I Believe I Can Fly' to close out the show, which he also sang in his final performance on Mondays penultimate episode of the show.
Paul received embraces from his wife and family members as he sang. Paul beat out fellow contestants Juliet Simms of Team Cee Lo (Green), Tony Lucca of Team Adam (Levine), and Chris Mann of Team Christina (Aguilera). Host Carson Daly revealed that Paul edged out second place finalist Simms by fewer than four percentage points.
Tuesdays special two-hour finale included a plethora of performances from stars such as Justin Bieber, Lady Antebellum, Flo Rida, and Hall & Oates. Contestants previously voted off the show were invited back to perform with the four finalists. 'The Voice' became one of the most-watched TV shows in the United States earlier this season and was seen a challenge to Foxs top-rated singing show 'American Idol.'
During the season, it proved very competitive against 'Idol,' especially in the coveted 18-49 viewer group where the two shows are in a close race to be the most-watched program. But 'Idol' draws many millions more total viewers than 'The Voice' - an average audience size of 19.2 million this season compared to 14 .8 million for 'The Voice', according to figures from the two TV networks. (Reporting By Andrea Burzynski; Editing by Bob Tourtellotte)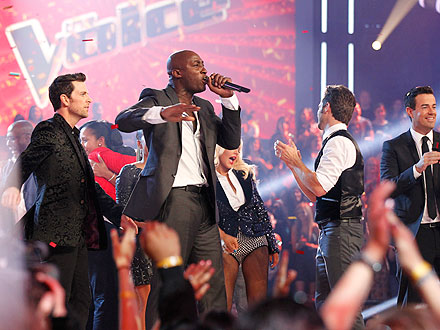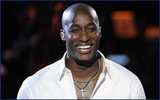 "I am very shocked," admits Paul. "I honestly was ready to accept not winning. But I'm so excited."
As for his win, "It's an amazing feeling," says Paul. So was getting a huge hug and kiss from his wife, who rushed the stage as the confetti dropped and the celebrating began.
"She has been with me throughout this whole journey," says Paul. "Leaving college, not going with basketball and going with music and sticking with it, having kids so young, and getting married even younger – it's been a tumultuous journey for us."
says coach:-
I don't feel as much proud as I do like one of those girls who was screaming for Justin Bieber and falling apart," says coach Blake Shelton. "That's what I feel like. Jermaine is a guy who has been in the shadows, but he's stuck to his guns. 'I Believe I Can Fly' was the right thing to do."
says his pal:-
As his pal Alicia Keys, for whom Paul used to sing backup, Tweeted after his win: "@JermainePaul deservesssss all of this!!!!! He has more talent in one hand...;-)))) congratulations brotha!!!!!!! Shine shine shine!!!!!!"
At the start of the finale, it seemed the odds were in favor of Team Cee Lo's Juilet Simms, who came in second place, or Team Adam's Tony Lucca, who ended up third.