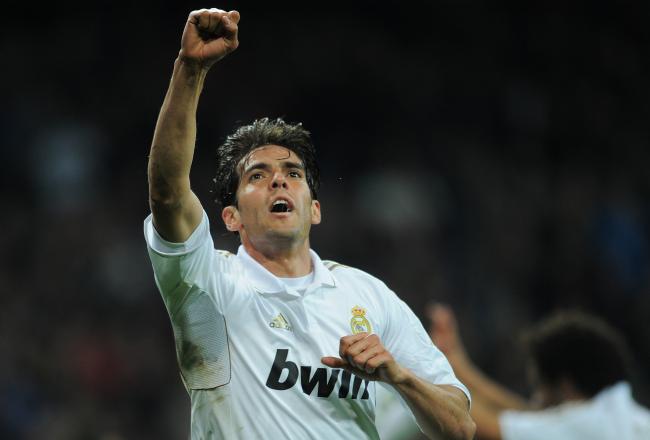 If
Liverpool
wants to be competitive this season, they need to add players that can play at a high level. One such player that is available is
Kaka
.
The midfielder has been made available by Real Madrid because he is not getting on the pitch. He went unused in the club's 1-1 draw against Valencia to open the season. Last year's La Liga champs have too much talent to find room for the one-time Player of the Year, but Liverpool does not have that problem.
Yahoo reports that the Reds are not only interested in acquiring the former star, butSoy Madridista says "management already have a deal in place for Kaka."
A few years ago, Kaka was one of the best players in the world. In his last two years with Milan, he scored 35 total goals and added 22 assists. This earned him a £60 million deal with Real Madrid in 2009.
Unfortunately, injuries have cost him time with the team and he has failed to meet expectations with his new club. His scoring totals have dropped every year and only scored five goals in league play last season.
The good news for Liverpool is that he can still help the team in other ways. Kaka finished last year with a career-high 14 total assists for Real Madrid. If he can continue this passing ability, he will improve an offense that finished 11th in the EPL in goals scored.
In addition, he would bring with him tons of experience that could help the young players on the team. He has helped his teams win La Liga, the Champions League and even the World Cup. The 30-year-old has seen it all in this sport and will be able to impart knowledge on the rest of the club.
There are a few problems with this potential acquisition. He injury history could scare Liverpool from making the deal. Conversely, Kaka could decide he does not want to play for a team that could struggle this season.
However, if the two sides can come to an agreement, it would be a good fit for everyone. Real Madrid needs to get rid of him, Kaka needs to get playing time and Liverpool needs talented players.
There are other moves that the Reds should make for this season, but after the 3-0 loss to West Brom, management needs to do everything it can to improve the team and soon.